What Arkivy Can Do For You
Welcome to our second blog post. In this post, we explain in brief some of the primary benefits of Arkivy Legal Matter Management.
Manage Timesheets
One of the most important yet hated tasks in the legal profession is the tracking and reporting of time spent on matters: timesheeting. Timesheeting is a messy affair. Time must be spent preparing for an activity, then doing the activity, then logging the time to the right time slot, client and specific tasks… over and over and over again.
All this while managing deadlines, other tasks, interruptions and daily emergencies. By the end of the day, exhaustion has set in and the next day comes without having done time entries. At the end of the month comes the dreaded, "timesheet" hour where yet more time is spent remembering and collating time spent, often wishing the time was entered when it should have been! This notably has the additional disadvantage of preventing the law firm from getting a snapshot view of its performance before the end of the month.
Adding a poorly designed timesheet system understandably makes people dislike the entire process. It is also unfortunate that timesheeting is often not integrated in the work so that lawyers can actually benefit from it. This would have the added advantage of incentivizing lawyers to timesheet.
We shared in our first blog post that our vision for user interface is keeping things simple and intuitive so that no training is necessary. In this spirit, we have created a time entry system where you can simply insert your hours for each task and click finish once you have completed the task. To incentivize lawyers to add their tasks, we provide them with a virtual assistant to help them prioritize their work and remember important dates, deadlines and other events.

As you can see – there is only one field to edit! No more opening a calendar, picking a day and then adding time to individual tasks repeatedly. At the end of the day, your timesheet entries are done! Goodbye month end madness!
But what if you get something wrong and need to make edits? No worries, you can modify the timesheet entries using Arkivy's custom timesheet and reporting abilities.
Manage Deadlines
Legal teams live in a world of deadlines and conflicting tasks. A complicating factor for busy legal teams or individual lawyers juggling multiple clients and matters is the question of what are the looming deadlines and which of those are the most important? Having clear visibility of deadlines is a critical factor to ensuring that good and proper legal work is done for clients.
In the spirit of our guiding design principles, let me introduce you to your new virtual assistant. Think of it as someone that's got your back and consistently keeps your deadlines front and center. This view is always available on the main dashboard of Arkivy. It keeps you informed of all important information regarding the matters you are working on.

You can even create a group of your own 'favorite' matters and see on a grid all of your upcoming deadlines in a kanban-like view. (A fancy way of saying a grid of grouped items with the most important things highlighted.)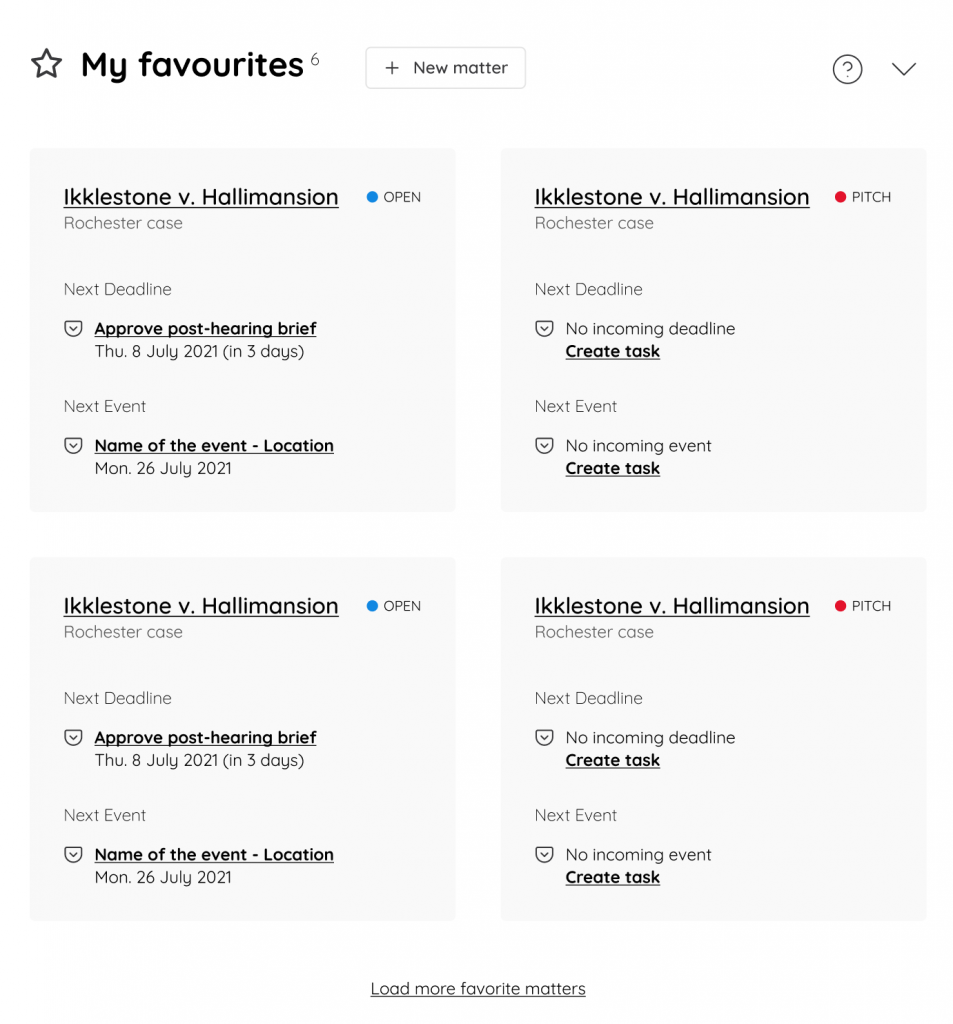 In some contexts, viewing deadlines works better with a calender – and we've got you covered here as well: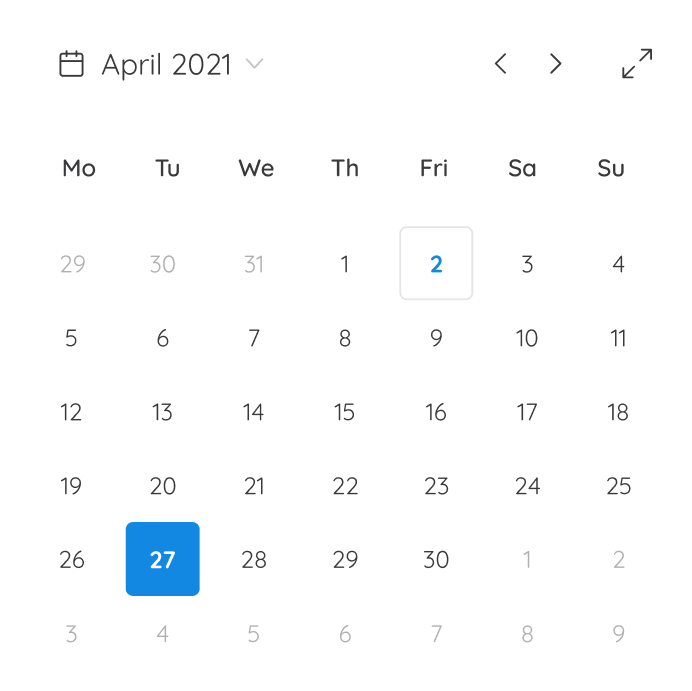 With Arkivy, you'll have plenty of visibility of your important deadlines. It'll be up to you to meet them!
Allocate Work Between Team Members
Collaboration has always been a maj or factor in legal work – and with the global covid pandemic, even more so as firms have had to restructure more of their work in the virtual world.
With our Content dashboard, we provide a simple homepage where you can find, view, edit, markup, redact, upload and download all of the important documents and media for a matter.
No more sharing workflow across Email and chat clients. Email and chat are great tools, but suffer poor meta content management. Have you ever tried looking for 'that' file in Skype, Slack or Teams chat from 18 months ago? What about the whole case bundle?
Some organizations put their common matter data into computer network storage folders – but these suffer from poor search and meta content management. So what is this term "meta content management" anyways? It is simply the collecting of data and its associated properties in a manner that makes the data easy to view, find and manipulate (we'll touch upon Document Management in a future blog post).
Our Matter and Content dashboard provides you all information about the matter you are focused on and places viewing, search and edit functionalities at your fingertips. With this information at hand, you can better see, understand and collaborate with your colleagues.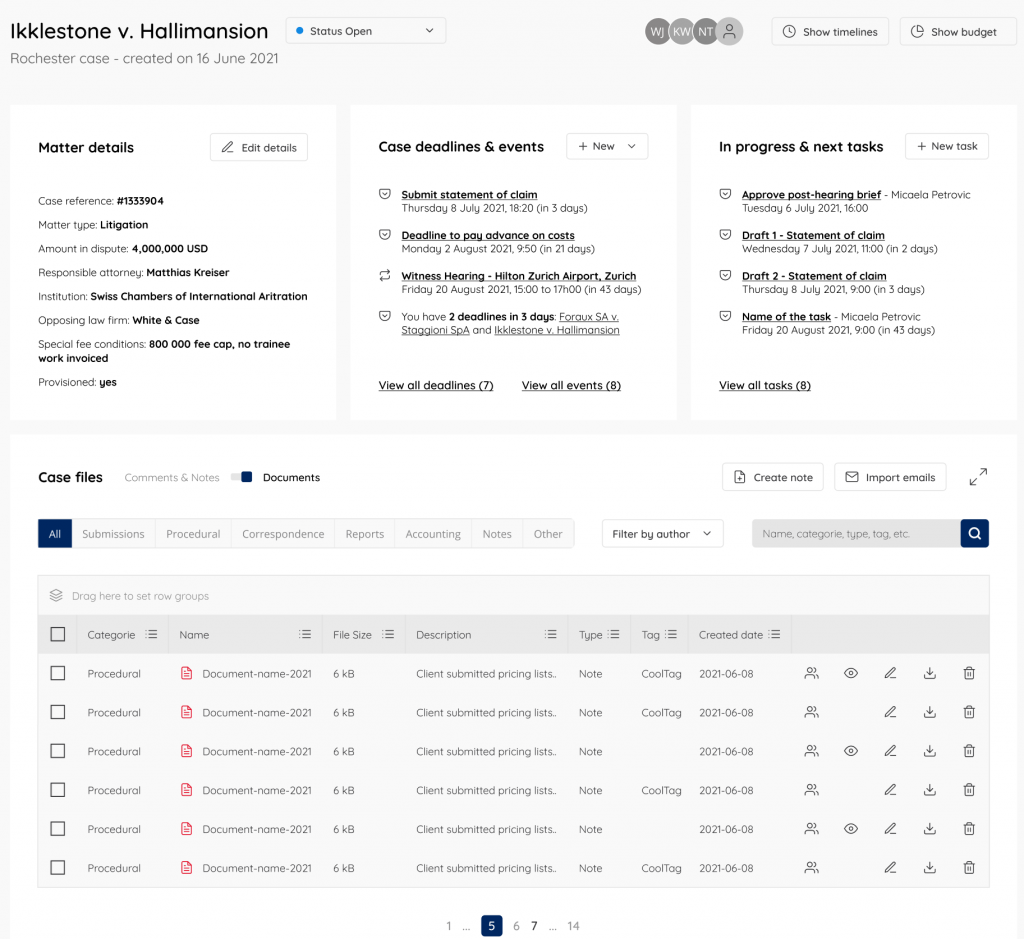 Monitor Work In Progress
In the previous section, we've shown you a matter's collaboration hub, but how do you know something was done without having to manually go in to find that it is available – or not? To this end, Arkivy's main dashboard provides a live feed of progress against many tasks in an 'Activity Stream.' This reflects our design principle that things should be easy to find. Why spend minutes filtering a lengthy list?
The activity stream will allow you to see the activities of your colleagues – no more chasing status with e-mails, chats, phone calls and the ever dreaded desk fly-by's. You can customize the activity stream to show only the matters that require attention.